Just like any other organ the eyes also place an important role. They help you to see and visualize or picture things around you. At times, you may face certain issues with the eyes like blurring or not being able to see as sharp as you used to. This is where Lasik surgery can play an important role. This technique in fact is one of the most recent advancements in the field of medical advancements. It is known to permanently correct the vision of one's eyes by reshaping the cornea with help of a laser. This way the patient no longer has to remain dependent on eyewear. Lasik surgery is said to be a painless procedure which involves avoiding participation in day to day activities so as to allow the eyes to heal up at a steady rate. Here are a few things one needs to avoid straight after a Lasik surgery:
 Looking and staring at bright lights:- Right after the surgery patients are told to wear dark sunglasses since they would eliminate any passage of light directly to the eyes and create a dim environment which is quite gentle. This would also mean falling asleep with protective goggles as they would not only help block the light but also work as a shield in case the patient wishes to rub or scratch the eyes. While at home, the lights inside should be dimmed and blinds tightly shut.
 Driving any vehicle:-  After the Lasik surgery, it is strongly recommended to depend on others if you wish to go from one place to another. This would also mean avoid driving for a few days especially during the night. Driving in night needs to be avoided for at least two weeks as the eye would not react well in poor visibility. If the patient needs to go outside then he or she must wear proper sunglasses at all times even while sitting inside the car.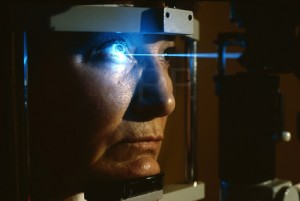 Restriction in applying cosmetics:- Doctors strongly advice patients to not apply any cosmetics especially near the eyes as it may cause infection and irritation to the eye. As a result, this may slow down the healing process and even prove to be fatal. Applying false eyelashes should be strictly avoided.If in case you can apply anything then it should only be the prescribed eye drops that would promote moisture and hydration. Even the fingertips should also not come close to the eyes as any dirt or germs can be easily transferred causing infection. It is strongly advised that fingertips should not come near to the eyes for at least two weeks after the Lasik surgery.
 Exercise and exertion:- Many may be of the opinion that exercise may not have any impact on the eyes however physicians would never permit such an activity. Even once the healing is over, precautions must be taken and only mild physical activities may be permitted only after a month.Rest is always advised after the surgery for three days and the doctor may permit minimal watching of the television or even using the laptop or computer. Sleep is always encouraged as the eyes when closed ensure faster healing and minimum discomfort.
Consumption of alcohol:- Quite similar to any other surgery the patient is told not to consume alcohol especially for the first two days as that can delay the healing process and it should not be mixed with the medicines.
 Taking a shower:- Water should not enter the eyes under any circumstances and this is why patients are told to avoid showers while taking a bath after Lasik surgery. In fact, the doctor would usually instruct the patient to avoid washing the hair for the first week and wear a pair of goggles to protect the eyes from water. The patient can use a damp washcloth with soap to clean the face but needs to avoid touching the eyes.
Authors Bio:-   Weldons Dean worked at Laser Eye Surgery in San Diego and have good experience.He is presently associated with Nvision centers .which deal in vision problems.You can ask him all your queries and questions aboutEyes related problems.He loves receiving these questions and answers those promptly.
Originally posted 2014-01-10 13:37:50.