Ube (Purple Yam)
Purple Yam or "Ube" in the Philippines is a type of yam and is a famous root crop. With its purple color, it is sometimes misguided with taro or the Okinawan sweet potato. What makes this root crop so popular is it can be used for a wide variety of desserts. Ube can also be used as a flavoring for ice cream, milk, tarts, cookies and Swiss rolls. For the record, purple yam is not a native of the Philippine island, but it turns out that they use it more often compared to other Purple Yam bearing countries.
"Halayang Ube" or purple yam jam is very  popular in the Philippines. An interesting fact that the Filipinos do believe (from the Chinese) would be the celebration of the New Year's Eve and the collection of twelve round fruits to bring luck and prosperity. During the New Year's Eve the purple yam is used in order to "attract" money because of its color, the color which represent a hundred peso bill.
Aside from its good luck belief, Halayang Ube also has some health benefits.  Considered to be a good source of fiber which is important in digestion. Rich in Potassium ( one of the vital electrolytes in our body) which aides an individual system to be more strong and healthy. Popularly, it is known to be rich in antioxidants. It is found to be helpful in detoxifying vital parts of the body such as kidneys, pancreas and spleen. Purple yam also contains minerals that are very helpful in improving the body's metabolism process. Truly Purple yam is an amazing vegetable that an individual should take note and include with their daily diet habit.
In the Philippines, purple yam is a part of their culture – it is a part of who they are. Ube halaya is also a popular ingredient in making the most known dessert all over the Philippine islands – the "Halo-Halo". It is a mixture of boiled sweet beans, evaporated milk,  diced fruits, shaved or crushed ice, ube halaya, and of course a scoop or two of ice cream on top, and is served in a tall glass.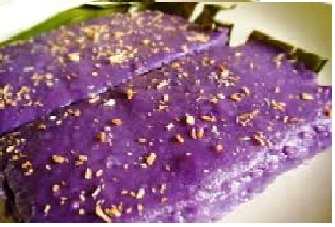 In order for you to take part of this Filipino food culture, below would be the recipe for Ube halaya:
Ingredients:
1 pound frozen grated Purple Yam
1 cup brown sugar/ Turbinado Sugar
¼ cup vegan butter
1 can coconut milk
Directions:
In a medium sized cooking pot, place the butter and let it melt.
Once the butter has melted, add the coconut milk and bring it to a boil.
Add the brown sugar and stir well.
Put the heat low and add the purple yam, mix well.
Stir the purple yam until it becomes thick, this process should take about 15 to 20 minutes.
Once the purple yam turns thick, remove from direct heat, transfer to a container, and let it cool down. You can also use a mold to give it a lovely shape once it cools down.
When it cools down to room temperature, refrigerate it.
Filipinos are always into making things better. It is also in the Philippines, where you can find a root crop turned into something exciting and sweet. It does not even need to undergo any special process to make a very mouth-watering dessert that will be loved not only in the Philippines, but all over the world.
Linda Rosario is a food enthusiast from Chef Needs "The Kitchen that Every Restaurant Needs". Linda also loves arts and crafts and works as a pre-school teacher.
Originally posted 2013-09-02 05:14:45.