The prickly pear  or cactus fruit is an exotic fruit relatively unknown in many countries. But this fruit has important nutritional and medicinal properties.
The tuna gives the body:
– vitamin A
– Vitamin C
– Vitamin B 2 and B6
-Phosphorus
– Calcium
– Potassium
– Magnesium
-Fiber
– Antioxidants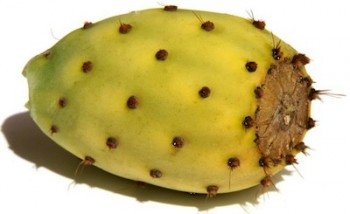 Health benefits of eating tuna:
-Helps to control and stop diarrhea
-Prevents osteoporosis
-Regulates digestion
-Helps to control the blood sugar level
-Helps eliminate body fluids
-Reduces the level of triglycerides and cholesterol in blood
-Helps control cough and pains due to lung disease
-Improving heart health
-Relieves minor aches because of ulcers
-Helps prevent cancer
-Helps in the treatment of diseases such as arthritis and diabetes
It has very few calories and despite being sweet people with diabetes tend to tolerate this fruit without consequences.
There are many ways to consume either tuna or preparing fresh fruit jams ,jellies , desserts, salads and other products.
The tuna also used commercially in the preparation of various beauty products like shampoo, creams and gels for its enormous medicinal qualities.
The prickly pear fruit is ideal for those wishing to lose weight for the few calories it has and generation also produces a pleasant feeling to eat because it is rich for being sweet.
Really worth eating this fruit if we can access it as well as being delicious is very healthy and nutritious. 
Originally posted 2013-04-16 14:32:36.